Disney Plus Error Code 43 is a playback error code that can be caused by connectivity or availability issues. It can happen when your application or web player of Disney Plus can't connect to the Disney Plus servers, and can also appear if you try to play a movie or show that has been removed from the service. You can fix the first problem by fixing any connectivity issues you may have, while the second can only be resolved if Disney brings that content back to you at a later date.
What does Disney Plus error code 43 look like?
When this error occurs, you will typically see this error message:
We're sorry, but we can't play the video you requested. Please try again. If the problem persists, please visit the Disney+ Help Center (Error Code 43).
What Causes Disney Plus Error Code 43?
Disney Plus Error Code 43 indicates a connectivity or content availability issue. The most common cause of this error code is a connectivity problem between the Disney Plus app or web player and the disney plus serverswhich can be fixed by fixing your internet connection, repairing the Disney Plus app, or updating the web browser. The least common cause is content availability, which essentially means that the show or movie you're trying to watch is no longer present on the Disney Plus servers.
How to fix Disney Plus error code 43
To fix Disney Plus error code 43 and start streaming again, follow each of these series in order:
Try uploading the video again. If the error code was caused by a momentary connectivity issue, then it may play fine on the second try.
Try playing a different video. If other videos play without problems, then the one you are trying to watch may have been removed from Disney Plus. In that case, you can contact Disney Plus customer service to ask if there is a deadline for its reinstatement to the service.
Make sure your device is compatible. Check the official Disney Plus compatibility list. Although the service works on a wide range of devices, there are some, especially older streaming devices, that are not supported.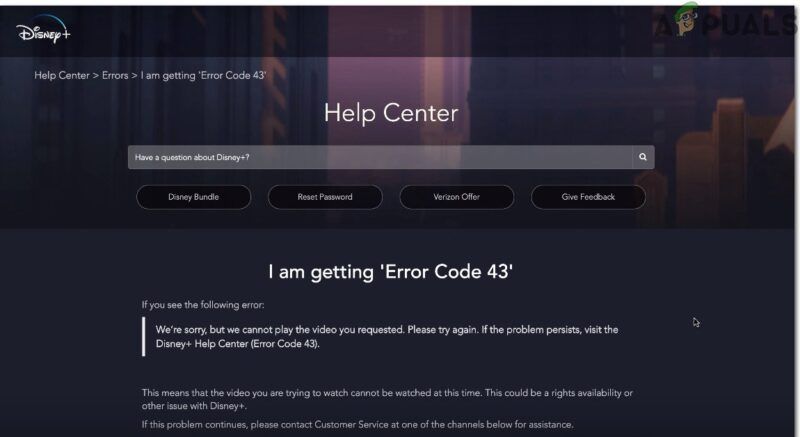 Restart the Disney Plus app or your web browser. Completely close the app, or your web browser if you're viewing it on a computer. Once it has closed completely, launch the app or web browser again and check if the error code 43 persists.
Power off and restart your device. Whether you're using a phone, a computer, or a set-top box, turn it off completely and restart it. In some cases, you may need to unplug your device from power to turn it off completely. Once it has restarted, check if the error code has disappeared.
Check the speed and stability of your Internet connection. Run an internet speed test, preferably using the same device you're seeing the error code on. For example, run the speed test using your phone if the Disney Plus phone app is showing error code 43.
Disney Plus recommends an Internet connection that can meet or exceed the following speeds:
– HD content: 5.0+Mbps
– 4K UHD content: 25.0+Mbps


If your connection speed is not fast enough, contact your Internet Service Provider (ISP) for help.

Check other streaming apps. If you have other streaming apps, like Netflix, Hulu, or YouTube, check to see if they can stream. If none of your streaming apps work, there's something wrong with your internet connectivity. If your device can't access the Internet, you'll need to fix your Internet connection before you can continue.
Clear cache data. If you're trying to watch Disney Plus using the web player, clear your web browser's cache. If you're using a Disney Plus app, you'll need to follow device-specific steps to clear the cache. Some devices don't offer that option, in which case uninstalling and reinstalling the app will have the same effect.
Here are some device-specific procedures:
– Clear the cache on your Android
– Clear the cache on your iOS device
– Clear the cache on your Fire TV device
Here's how to clear the cache on a Roku:


– Press the

button

Start

on your remote to return to the home screen.


– Press

Start

five times


– Press

Above

once,

Rewind

twice, then

fast forward

twice.-
– His Roku will clear your cache and it will restart in about 30 seconds.
Sign out of the Disney Plus app or website. In some cases, this code can be caused by credential issues. Logging out and back in refreshes the credentials and may fix the problem.
Check your billing status. In rare cases, this problem may be caused by a problem with your billing status. Check your billing page on your Disney Plus account to make sure you've entered the correct information. You can also contact Disney Plus customer service to make sure your payments are up to date and your account is active.